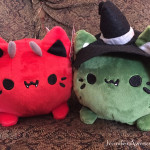 I got this year's limited edition Halloween Meowchis from Tasty Peach Studios as soon as they went live on their website. If you're not familiar with Tasty Peach Studios, I have written about other plushies from them before (here and here). I couldn't choose between the adorable witch and demon, so I got them both.
They are both super soft and are made from the same minky fabric as the other Meowchis. Both of these limited editions also have their own unique facial characteristics.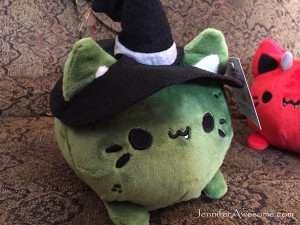 The witch is green and has a felt witch hat attached to her head. She also has cute little warts on her face and one tooth sticking out of her mouth. Her eyes are slightly slanted to give her a mischievous look, as though she is thinking about putting a spell on you. The felt that makes up her hat is stiff and a kind of scratchy. There are ear holes on the hat to accommodate her ears. Witch Meowchi is the perfect familiar for any kawaii witch!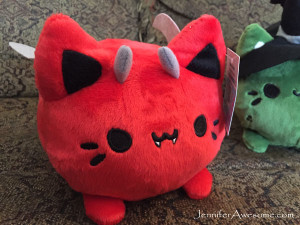 The demon is red and has devilish horns sticking out of his head. He also has felt wings on his back, which are made of the same type of material as the witch's hat. Rather than the standard rounded tail that most Meowchis have, he has a pointy tail, just like a real demon! On his face, he has evil little fangs and the same mischievous eyes as the witch. Demon Meowchi is ready to cause all kinds of mayhem on Halloween!
The witch and demon Meowchis are still available on the Tasty Peach Studios website (as of this writing), but they probably won't last long, being limited editions. They are $25 each, as are all of their limited edition Meowchis (the standard Meowchis are $20). If you miss out, they will be available again in January during their "last chance" offering of this year's limited editions.
Share!
Follow!