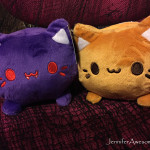 I missed the preorder opportunity for the variants of last year's Halloween Meowchis (and didn't get the originals last year either), but Tasty Peach Studios offered a last chance to order the remaining Purple Vampire Bat and Chocolate Candy Corn Halloween Meowchis last weekend, in addition to the remaining Witch and Demon Meowchis that were introduced this year, so I woke up early that day and scooped them up as soon as they went live.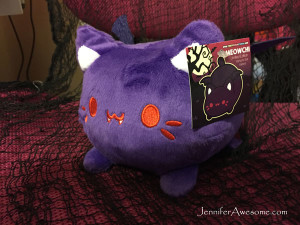 The Purple Vampire Bat Meowchi is a variant of the black Vampire Bat that was available last year. He has felt wings, just like this year's Demon Meowchi. He also has spooky red eyes and adorable vampire fangs. His whiskers are also red, presumably to show up better on his dark-colored fur. He reminds me of a cross between the Bitey Bat and Meowburt animal orbs in Castle Crashers.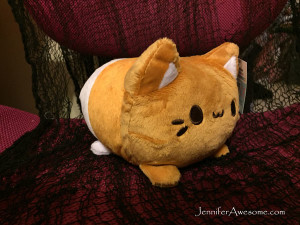 The Chocolate Candy Corn Meowchi is a variant of last year's Candy Corn Meowchi's. He has a chocolate face instead of the original yellow. He has an orange stripe across his middle and a white stripe across his rear, just like a real chocolate candy corn! He has the same adorable happy facial expression as the original Meowchis. Chocolate Candy Corn Meowchi is a delicious addition to any Meowchi collection!
Here's all of my Halloween Meowchis, as well as my entire Meowchi collection. I think I may have a slight problem, though my Meowchi collection does pale in comparison to some of the photos that other fans have shared on Tasty Peach Studio's facebook page. I love how stackable these things are. They're like potato chips. You can never have just one!
These limited edition Halloween Meowchis were definitely worth adding to my collection, despite Halloween being over. They are cute enough to display all year!
Share!
Follow!