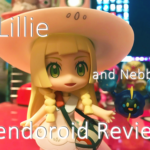 While I usually post collectible and toy reviews on this blog, I decided to publish my most recent Nendoroid review on HubPages to reach a wider audience. Check out the full review over there!
My most recent Nendoroid purchase is Lillie from Pokémon Sun and Moon. I preordered her from the Pokémon Center website back in July, and she finally arrived on New Years Eve (thanks USPS for Sunday delivery!). She came with her Cosmog companion, Nebby, who still refuses to get in the bag.
In addition to Nebby, Lillie came with several accessories. She has the duffle bag that she carries in the games, in which she unsuccessfully attempts to get Nebby to stay. She also has her hat, which is removeable. I also got a Pokédoll accessory with my Lillie Nendoroid because I preordered her from the Pokémon Center website. Collectors who preordered her from Good Smile got a potion bottle accessory instead.
Share!
Follow!