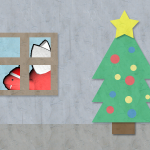 Today is marks the third week of my web comic, Dinosauring. Since today is also Christmas Eve, I did a special 6 panel parody of "'Twas the Night Before Christmas."
This strip, 'Twas the Night Before Christmas, features the three Stegosauruses, Sir Stegington, Gweneira, and Mary Sue, along with a special appearance by Stego Claus.
I hope to make more special holiday comics in the future (including New Years next week!). My interneting goal for the next year (and beyond) is to post a new Dinosauring comic every week, as well as posting here on my blog more often (even if my boyfriend is the only one reading it).
(This post is being filed under "Cool Story Bro.")
Share!
Follow!