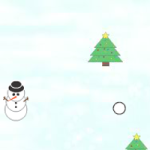 I made my Pong game even better and more Christmasy! Now it has snowmen and Christmas music. Ignore the fact that it's kind of morbid for people made from snow to be throwing snowballs at each other for fun and enjoy!.
Merry Christmas! (Or "Happy Holidays" if you prefer.)
Use the mouse to control your snowman.
Share!
Follow!