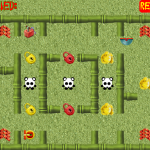 PANDAmonium is the 5th game I created in Intro to Game Design. It's about three cute little pandas who are lost in a bamboo forest. The pandas must work together to escape! This is a single-player game in which the player controls three pandas simultaneously to figure out how to help all three panda's escape without dying or getting trapped. I made this game back in October.
You can download it from YoYo Games for free here:
PANDAmonium
Added: 13 December 2013
By: Nybiru
This game was created using the Koala-Br8 tutorial in The Game Maker's Apprentice
by Jacob Habgood and Mark Overmars. The graphics were all created by me. The music is from jewelbeat.com.
Share!
Follow!