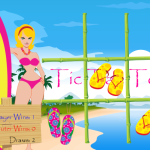 The 8th game I made in Intro to Game Design was this simple tic-tac-toe game. It was just to learn the basics of scripting. I used summery beach-themed graphics because I'm already tired of this cold weather. I'm sure most other people living in Ohio agree with that sentiment.
There isn't really much else to say; it's tic-tac-toe. Get three pairs of your sandals in a row before the computer.
I made it following a tutorial in The Game Maker's Apprentice
, as with the rest of the games I made for that class.
Beach Tic-Tac-Toe
Added: 17 December 2013
By: Nybiru
Beach Tic-Tac-Toe has something for everyone! A girl in a bikini for the guys and shoes for the ladies.
Okay, that was mildly offensive. Ignore that comment.
Share!
Follow!