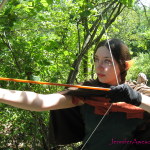 Midoricon was a couple weeks ago, and my boyfriend and I decided to go in Dragon's Crown cosplay. We just finished our costumes the day before the convention. I was the Elf and he was the Wizard.
I didn't get any pictures of my costume before I got tired of my wig and took it off. It started getting messed up under my hood and it was too hot outside for wigs, so I stopped wearing it halfway through Saturday and just braided my actual hair. Plus, my elf ears didn't really work with the hood up and the wig on, and I wanted to wear my elf ears at some point during the convention. I didn't get any pictures of my boyfriend as the Wizard either, because he wants to improve some things on his costume as well (his wig ended up looking completely different from the picture on Amazon, so he stopped wearing his too).
Here's some pictures of me as a brown-haired version of the Elf. We're probably going to do these costumes again sometime if we can get better wigs.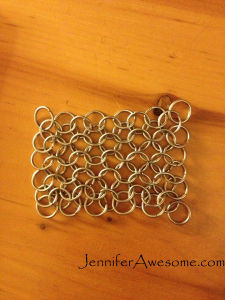 Midoricon was pretty awesome overall. There was live-action Mario Kart (which unfortunately filled up before we could register to compete, but we still got to see it) with a crazy banana running around. There were also some outdoor panels, which we didn't really check out. I did learn how to make chain-mail at a chain-mail panel that Link was presenting, which was pretty awesome! We only had time to make a small bit of chain-mail at the panel, but Link let everyone take home a cup of chain links to make more later.
This was Midoricon's second year. Last year we just went for one day since we had just gotten back from Matsuricon. We chose Midoricon over Matsuricon this year, since last year Midoricon was better, even though Matsuricon is bigger. (In the con world, bigger isn't always bigger, which we learned from Ohayocon this year, which was overcrowded to the point of not being enjoyable and I can't even remember what panels or events were there. Even though it was the biggest con I've been to, it was also the least memorable.)
Anyway, aside from some immature idiots pulling the fire alarm repeatedly (I doubt this con will be invited back to Shawnee State Park Lodge next year), and several of the employees treating us like we're a bunch of weirdos for wearing costumes, Midoricon was definitely one of the best cons I've been to.
The only things I'd like to see next year are more vendors and an actual gaming room. They only had tabletop gaming, which I'm not really into.
Anyway, I recommend Midoricon for anyone in the Ohio area who enjoys going to conventions, especially if you're tired of the bigger, more crowded conventions. It's more laid back than other cons, and even though it's small, there is still plenty to do.
Share!
Follow!