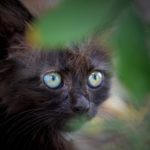 "Stray" is a short story about a small black kitten who is abandoned time and time again before finally finding a loving home. A must read for all cat lovers.
I was brought here at the end of autumn, as the final leaves fell to the ground, the winds got colder, and the nights became the longest that I have ever known. I didn't know it then, but my life was about to change, forever.
I've had many homes throughout my short life before I was brought here. None of them lasted for long. I was always cast out for one reason or another, though I was never quite sure why. I did my best to make them want me. I really did. But it seems that my best just wasn't good enough for them. At least not for most of them. Not until I met her.
Share!
Follow!