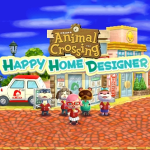 I got Animal Crossing: Happy Home Designer last Friday before heading out to Midoricon. Though it is a bit different from the main series games, it is still just as fun! As long as you don't go into it expecting it to be like the previous Animal Crossing titles, if you are a fan of the series, you are sure to enjoy this cute little spin off. I don't believe that the negative reviews are justified, since it never claims to be a regular Animal Crossing game.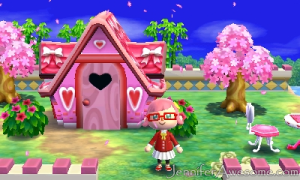 In Happy Home Designer, you are a new employee of Nook Homes. Your job is to design the interior and exterior of the animal residents' new homes. As you progress, you can choose the location of their homes, unlock new items to include in your designs, and earn upgrades to make bigger and better homes. You also get to design public buildings, such as shops, a doctor's office, and a school. You can design the homes and buildings however you want, but there are certain items that must be included for most projects. For example, the school rooms require a teacher's desk and at least four chairs and tables.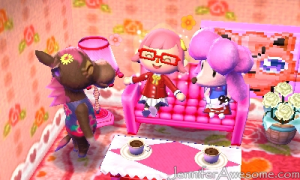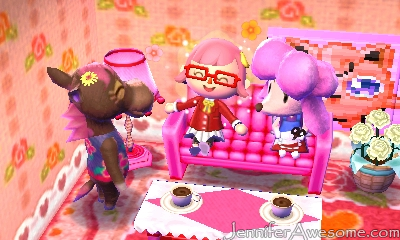 The Amiibo cards are a fun addition, but they aren't necessary to have fun playing the game if you aren't interested in collecting them. Most of the cards allow you do design homes for villagers that will randomly show up in the game anyway. There are special cards, however, that let you call "Special People," such as Isabelle or Tortimer. Each pack comes with five regular cards and one special card. As with other types of trading cards, each pack contains random cards. They're kind of like the Animal Crossing e-Reader cards, if anyone remembers those. You can also use the Amiibo cards to invite villagers over to visit animals for whom you have already designed a home.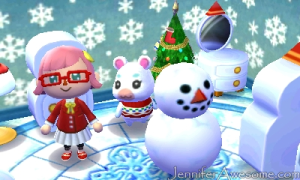 You can also share your designs and visit other players' houses via the Happy Home Network. You can rate designs in the Happy Home Network for cuteness, coolness, uniqueness, and if you would live there.
The back of the box for this game says that there is Streetpass, but I haven't found any Streetpass features so far. There is a special villager you can meet via Nintendo Zone locations right now, however. He comes with special Mario items.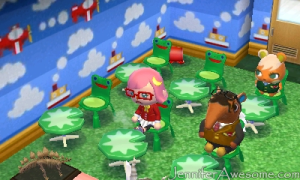 You can unlock new customization features by spending play coins via a handbook on your desk. I imagine this could get annoying if you never walk around with your 3Ds to earn play coins. I wonder if this is Nintendo's way of telling kids to stop playing games and go walk around outside. You can complete one lesson from the handbook per in-game day. The unlockable upgrades include things like custom curtains for the homes, the ability to create your own custom designs, and the ability to use the sewing machine to import designs from QR codes. QR codes created New Leaf work in Happy Home Designer as well.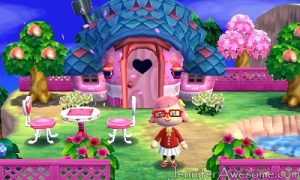 I wish you could have your own house, but at least you can visit all of the homes you have already designed whenever you want. I also wish you could change your outfit. Your character is stuck wearing their work uniform. Maybe they could add the ability to have your own house to go home to after work, where you could dress however you want. Perhaps they could let you change into regular clothes after work hours while visiting public buildings as well.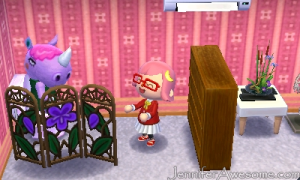 Based on some other reviews I've read, I guess Happy Home Designer isn't for everyone. If you enjoy decorating in Animal Crossing or want to visit your favorite Animal Crossing characters whenever you want, it is definitely worth picking up! At least this game lets you have Animal Crossing fun without worrying about losing your favorite villagers or returning to a town filled with weeds if you take a few months off!
What do you think of Animal Crossing: Happy Home Designer so far? Do you plan on getting Amiibo Party too, or are you going to skip these spin-off games and hold out for a new main-series game for Wii U? Let me know in the comments!
Share!
Follow!