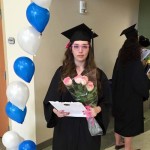 I graduated a couple weeks ago! I feel like I should make a blog post about that.
Right now, I'm busy getting ready for my wedding, which is coming up pretty fast. I plan to start working on a new game after I get back from my honeymoon. I'm planning on continuing my education to earn a bachelor's degree in game programming through an online degree program so that it will be easier to continue to work while going to school.
My game that I was working on during my last semester is available to purchase here: Nybiru.com. I plan on making a few browser games that can be played on my game studio's website as well as more PC games in the future.
Share!
Follow!