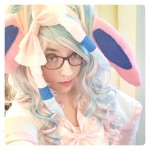 Wow, I'm behind on updating my blog. Anyway, I had so much fun doing the live action Pokemon events for Midoricon that I wanted to do another Pokemon cosplay of one of my favorite new Pokemon. I got this Sylveon cosplay finished just in time for NyanCon. I was going for a kind of lolita type of look for Sylveon. I even got an Eevee in the vendor room to complete my outfit!
I have a tail too, which you can't see in the pictures. I put a wire inside it to keep it from drooping too much. Also, I realize that the head bow is on the wrong side here. Mirrors are confusing!
I wore this cosplay for NyanCon and for halloween at The Side Quest in Lakewood. I'm planing on wearing it for Shinbokucon too, if go.
Share!
Follow!