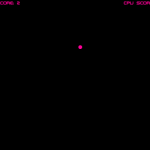 As I mentioned in my last post, I just started learning Flash on my own. Here's the first game I made using Flash; Pong! My Pong game is just like traditional Pong, except the paddles and ball are pink, which instantly makes it better!
I'll post the resources I used to learn how to make Pong (plus my own instructions for the things I couldn't find tutorials for online) in my next post. For now, enjoy playing Pong (because you didn't get enough of it in the '80s!):
Use the mouse to control your paddle. First to 5 points wins.
Share!
Follow!