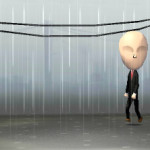 Welcome Slender Man to your Tomodachi Life island… if you dare! What creepy things will happen after your island's first Slender Man sighting? Will your other islanders be safe from this internet legend?
He comes with a creepy background and a distinguished suit.
Come back tomorrow for a QR code for Stargate SG-1's Thor.