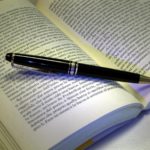 Hi readers. I know I'm bad at keeping this blog updated, but I just wanted to check in in case anyone is wondering what happened to me. I feel like I have out grown this type of blog, I am in the process of creating a new personal website that will serve as a professional portfolio for my writing.
In the meantime, I have recently started writing on HubPages. Check out my articles! My favorite ones I've posted so far are Naughty Children Watch Out, Krampus is Coming to Town, Shield-Maidens or Housewives? The Real Role of Viking Women, and Introducing A New Kitten to Your Resident Cats. The rest of my HubPages "Hubs" can be read from my profile. For writers who want to write about many different topics, I think it makes more sense to publish them on sites like HubPages than in a blog (unless you want to have a bunch of separate blogs for different topics, and are willing to actually keep them all updated). While I do get search traffic on this blog for my video game posts, I think I will have more success with most topics on HubPages. It also gives me a place to publish some of my writing to link back to when my portfolio website goes live.
I am also planning on expanding my business, Nýbiru Studio LLC, to provide freelance writing services including copywriting, content writing, blog posts, email marketing and newsletters, product descriptions, and other custom writing services. I may also offer social media services and graphic design.
I will keep this website up since people are still searching for QR codes for Miis and other 3DS game content. I may post more here in the future if I have such things to share.
On a personal note, my husband and I bought a house last December, and I graduated with my Bachelor of Arts in Creative Writing and English last spring. I have accepted a new job as a substitute teacher for this school year, but ultimately I am going to focus on my career as a writer. My goal for 2018 is to build up my freelancing business, continue adding to my portfolio, and hopefully get a regular job as a writer.
Share!
Follow!