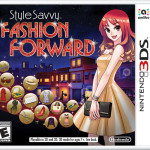 I admit I initially dismissed the Style Savvy series as shovelware, but all the positive reviews piqued my interest enough to download the demo, and I'm glad I did. After playing through the entire demo, I was hooked and immediately went out to buy the full game.
My initial impression of Style Savvy: Fashion Forward
was that it reminded me of Animal Crossing: Happy Home Designer, except you decorate people instead of homes. The demo version primarily revolves around helping one particular stalker-like customer to copy the look of another character in the game by choosing clothes, styling her hair, and applying makeup to emulate the other character. This plot point is also present in the full game. You can also change your own look and help a variety of other customers in the shop. There is much more to do in the full game, obviously.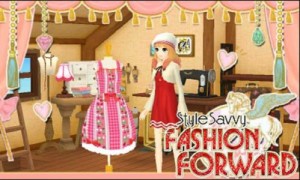 In this game, you take on the role of a boutique owner. At the beginning of the game, you find yourself transported to a strange town under odd circumstances. You are then put in charge of the town's fashion boutique and tasked with helping the town's residents to become more fashionable. In addition to choosing outfits for customers based on what they tell you they are looking for, you are also responsible for choosing what inventory your shop will carry. You get a sample of every item you purchase for your own wardrobe. You can also visit the hair salon and beautician to get a new look for your character or to help give clients makeovers. It is more addicting than it seems after you play it for a while. The story is kind of silly, but it is super fun to play.
There is also an interior decorating mechanic in this game in which you make use of miniatures you collect to decorate rooms that magically appear in a chalet in town. I haven't played with this feature too much, but it is kind of like a less robust version of Happy Home Designer. You can share a room you've decorated via Streetpass.
You can also become a model and a fashion designer, though I haven't unlocked these features yet.
Certain Amiibo are compatible with this title and allow you to unlock special clothing and accessories based on the specific character. After you scan in your Amiibo, a character that looks a lot like the Mii character that the Amiibo is registered to appears in your shop wearing the Amiibo's fashion item. I tried one of my husband's Amiibos, and it turned him into a girl. It was kind of hilarious. There are a few male NPCs, but there doesn't appear to be a way to get them as customers. All of the clothing items in the shop are for women.
Style Savvy: Fashion Forward
is a nice relaxing game with a surprising amount of depth. I highly recommend it if you are a fan of games like Animal Crossing and Nintendogs. A lot of gamers (especially female gamers for some reason) tend to write off all "girly" games, but Style Savvy shows that it is possible for video games to cater to stereotypical feminine interests and still be super fun with solid game play.
Share!
Follow!