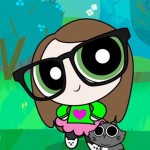 Again, I seem to have neglected this blog. I've been pretty busy lately. I'm still doing the whole college classes thing. I only have a few classes left, and am switching to half time for the remainder of my degree to give myself more time to work on my coursework as well as my own personal projects.
Aside from school, I've been busy making items for my etsy shop, which I hope to launch within the next month or so. I'm making a variety of items including tooth fairy pillows, hair bows, 3DS pouches, and jewelry. I want to have a decent inventory before launching.
The most exciting thing that has been going on in my life recently is that we've recently adopted a new cat. He is a black domestic short hair male named Salem. Freyja is super excited to have a playmate. I will post more about him in his own post.
(The features image of me as a Powerpuff Girl is unrelated. I just found it on my phone.)
Share!
Follow!