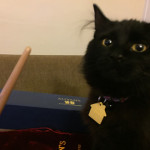 After thinking about getting a wand from Alivan's for a couple years, I finally decided to have a custom wand made. Alivan's is an online shop that sells solid wood wands reminiscent of the ones in Harry Potter. Though they aren't officially affiliated with Harry Potter, some of their designs are inspired by the wands wielded by the characters in the Harry Potter movies. These wands are much better than the cheesy officially-licensed resin or plastic ones.
After looking at the stock designs, I decided to get a custom wand instead, since in the Harry Potter universe, everyone has their own unique wand. I decided on willow, 12 inches because my favorite tree is the willow and my favorite number is 12 (and 12 inches seemed like a nice length for a wand. Not too short, not too long). Here is my finished wand with the included collector's box and wand bag. I also ordered a pendant made from the same wood. I chose a pendant design that reminded me of a kitty cat claw.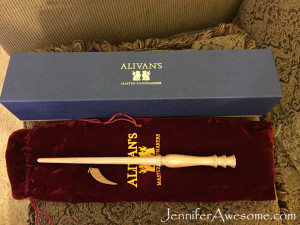 And here is the my original design mock-up that I sent in.

I wanted something simple, yet elegant and somewhat feminine, and this is what I came up with. My wand feels lightweight, but sturdy. It is very comfortable to hold and is just the right length.When comparing my original mock-up to the final product, they did change it slightly. The handle of my finished wand is larger in proportion to the total length than in my mock-up, and the handle is slightly less curved. I'm actually glad that they made these changes because it feels perfect. It would have likely been uncomfortable if the handle had been shorter, due to my embellishments on the bottom (that is why they are the "Master Wandmakers!"). As they say, the wand chooses the wizard!
Here's a picture of the handle: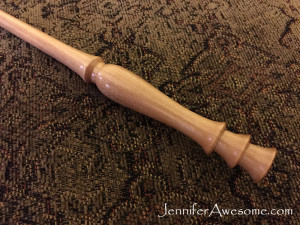 I also used a coupon code that I found on Alivan's Facebook page to get a free apprentice wand for my husband so that we can have wizard battles. The apprentice wand is made from Indian Rosewood and feels heavier. It also didn't come with a collector's box or bag (I know it was free, but they could have at least included a bag!).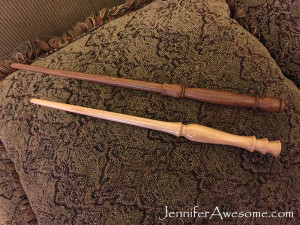 These wands feel very high quality. If you are looking for a high quality wand made from actual wood, I highly recommend Alivan's. This is especially true if you want your own unique wand rather than a replica of one of the characters' wands, and want a specific type of wood. I have another wand (a replica of Fleur Delacour's wand) that I bought from another vendor on a whim at an Oddmall event, and the difference in quality is night and day.
There is one thing I should mention for anyone thinking about ordering a wand from Alivan's. It took FOREVER to receive my order. I placed my order on December 30th and was told that I should receive it within four weeks. After four weeks of hearing nothing, I emailed them on January 28th to find out if it would be shipped soon, only to be told that they thought it would be in that week's shipments, but it wasn't, but that it would definitely go out the following week. On February 4th, I ask again if it would ship that week, and was assured that it was shipping on February 5th and that they would provide a tracking number. I didn't receive a tracking number and the package didn't arrive by the middle of the week as promised. After going back and forth trying to get a tracking number, they apologized and said it didn't actually ship yet, but would ship that week and that they would give me a tracking number. I never got an email with tracking information, but did finally get a text message from FedEx themselves saying that a package was on it's way, and it showed up on Feb. 13th. When I opened the package, there was a card that said that my wand was made on January 7th. I'd probably still be waiting if I didn't keep bothering them with emails.TL:DR: They made my wand about a week after ordering, but the shipping department sat on it for over a month and lied about when it would be shipped. The wandmakers themselves are excellent, but the company could use a better customer service and shipping department. Make sure to set up a FedEx account so you'll actually know when it's arriving.
Wands: 5/5 stars
Customer Service: 1/5 stars
I also ordered a school robe in Ravenclaw colors, which I will review another time after I see how it looks with the full uniform. I'm thinking about getting a broomstick from them too. Hopefully non-custom items will ship quicker.
Overall, I recommend them. Just give yourself a couple months if you want your wand in time for a convention or event.
*The featured image at the top is Freyja posing with my wand. Black cats are the most magical of all animals!
Share!
Follow!