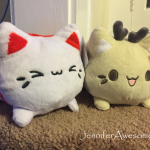 I just realized that I haven't yet reviewed my newest Meowchis. My Peppermint Candy Cane and Cream Reindeer Meowchis arrived back in December, just in time for the holidays. This review will be short since I have already reviewed a number of other Meowchi plushies.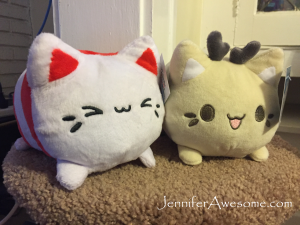 Cream Reindeer is a variant of the 2014 Reindeer Christmas special edition Meowchi. Tasty Peach Studios offered this recolored version for everyone who missed the original. He has adorable little antlers.
Peppermint Candy Cane is the 2015 Christmas special edition Meowchi. He has a two-toned red and white body.
As always, these two Meowchi plushies are made from a soft minky fabric.
The Reindeer design has been retired, but Candy Cane will be available again sometime this year for anyone who missed out. A second-chance pre-order for the Disapproval and Bumblebee Meowchi is currently available on Tasty Peach Studios' website. I have already pre-ordered my Bumblebee!
Share!
Follow!