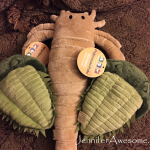 Awhile back, I backed a Kickstarter campaign for a trilobite plushie and they arrived last month. I ended up increasing my pledge to get a second trilobite and a eurypterid as well. These guys are part of the Paleontological Research Institution's Paleozoic Pals line of plushies based on small prehistoric creatures. Trilobites have always been one of my favorite prehistoric creatures, so of course I jumped at the chance to get a plush one.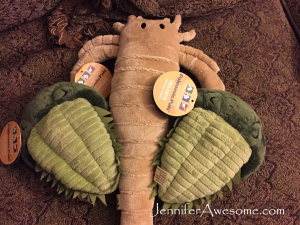 The trilobite plushie is based on the Greenops boothi trilobite. He his made of a soft green material and is a pretty solid plush. He is about 8 inches in length.
The Eurypterid was offered as a stretch goal reward for everyone backing the project for $25 or more. He is quite a bit longer than the trilobite and he feels a bit floppier.
These are both high quality plushies. I'm not sure if they offer them for sale outside of the Kickstarter campaign.
The next Paleozoic Pal in production will be an Ammonite. I hope to be able to add it to my collection as well!
Share!
Follow!