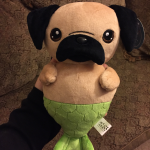 I found this adorable Merpug plushie while browsing the web for cute plush toys. I got it from Shlii.com, a small independent shop that specializes in cute and unique plush toys. As someone who loves both pugs and mermaids, I had to have a Merpug plush of my very own. I am starting to run out of room for plushies, but I can always make room for ones as cute and unique as a Merpug!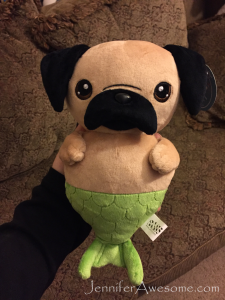 It is made from a soft minky fabric and its tail is embroidered with a cute scale-like design. it is about 10 inches long from the top of its head to its tail. Its eyes are embroidered and it has a plastic nose.
If you like pugs, mermaids, or just unique plush dolls, I highly recommend this Merpug!
You can get your own at Shlii.com. It will set you back $25, which seems about average for quality plushies from small businesses like this. There are also products featuring other breeds of Merdogs available, though it looks like Merpug is the only one available as a plush toy.
What are your favorite websites for cute plushies? Let me know in the comments! (Feel free to self-promote if you are a plush doll artist!)
Share!
Follow!