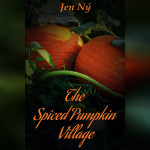 My newest book, The Spiced Pumpkin Village
, is now available through Amazon. The Spiced Pumpkin Village is a lighthearted Halloween-themed story about a girl who finds herself transported to a magical world. Along the way, she learns to accept a part of herself that she has kept secret from even her best friend, as she finds herself developing feelings for a pumpkin spirit girl she meets in the Spiced Pumpkin Village.
Autumn is just an average girl who loves fall and pumpkin spice lattes. She, and her best friend Summer, get lost in the woods the night before Halloween. Autumn never imagined that magic could exist until she gets separated from Summer and finds herself transported to a village inhabited by pumpkin spirits. There, Autumn meets a pumpkin spirit girl named Curpepa and they fall for each other almost instantly. The pumpkin spirits mistake Autumn for one of their own and insist she hide in their village until All Hallows' Eve is over, as the veil between the spirit world and the human world is weakest during this time of year. The pumpkin spirits seem terrified of humans, so Autumn decides to let them believe she is a spirit. Eventually, Autumn is faced with the decision to reveal that she is a human to save Summer and risk losing Curpepa, or to continue her charade. Along the way in her adventure, Autumn learns to accept herself for who she is and what true friendship really means.
The Spiced Pumpkin Village
is suitable for teens and young adults and is available from
Amazon
and
Smashwords
. It will also be available from other major ebook retailers soon!
Share!
Follow!