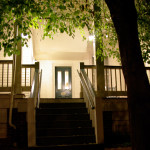 Here's a spooky short story that I wrote for Halloween. Enjoy!
I was sitting on my chair in the living room, drifting in and out of sleep. After some time, I was awoken by the chime of the clock as it struck twelve. I didn't mean to sleep for that long. I was just resting my eyes.
In a half-awake daze, I was startled by a creaking sound from somewhere outside. Several moments later I heard the sound of someone, or something, knocking at the door. I struggled to get out of my chair. My legs aren't as strong as they once were. I slowly hobbled to the window, but I didn't see anyone there. It must have been my imagination, or perhaps the wind.