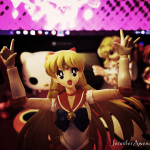 This review is on the Sailor Venus S.H.Figuarts figure
. Sailor Venus has always been my favorite sailor scout, so of course I jumped at the chance to get this awesome figure of her.
She comes with her Sailor V mask, different interchangeable faces and hands, and Artemis the cat. She can be displayed in many different poses and her joints and the paint applications look great.
The stand is a bit awkward. It has a clasp to hold onto her leg instead of a peg and a hole on her back like most figures I have. She falls over occasionally because of the stand design. It is also more difficult to swap out her face and hands that on some other figures I own, such as the Nendoroids. Sometimes, it also feels a bit awkward to try to pose her.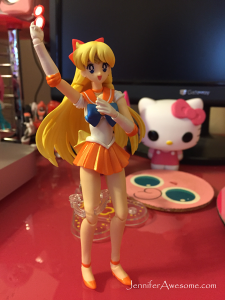 I briefly considered trying to collect all of the sailor scouts, but that would get far too expensive, so I will most likely stick to just this one. If they ever make one of her in her Sailor V  outfit, I might get that one as well too. If Good Smile ever comes out with Sailor Moon Nendoroids, however, I just might have to collect them all.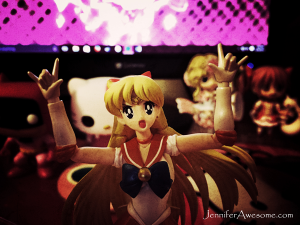 I do wish she came with some more accessories, however. Her transformation pen or wand would have been nice. Still, Sailor Venus
is an awesome figure and she is worth getting if you are a fan of Sailor Moon.
Share!
Follow!