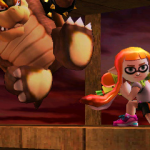 Are you looking for an Inkling Mii QR code to use with your Splatoon costume pack in Smash Bros? Look no further! I made an Inkling girl Mii character that you may add to your game as a Mii Fighter.
I made her while looking at my Inkling Girl amiibo. Unlike the mii pictures I saw in the marketing pictures for the new Super Smash Bros DLC, I included the black part between the eyes to make her look more like the actual characters in Splatoon. It's the next best thing to getting actual Splatoon characters in Smash!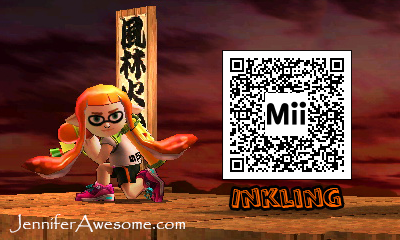 Just scan the QR code into Mii Maker and import her into Super Smash Brothers on your 3DS or Wii U as a Mii Fighter character. The Mii has the long hair that I thought l thought looked closest to to the tentacle hair of the actual Splatoon inkling girl character, but it doesn't matter since she is meant to be used with the Splatoon DLC outfit in Smash Bros. I believe I set her favorite color to orange.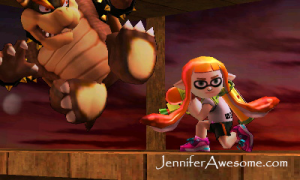 Who's excited for the big Splatoon update next month? I'm still hoping we get the rumored Squid Girl DLC in the United States!
Share!
Follow!