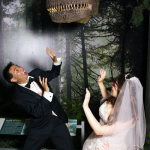 I got married about a month ago, on June 27th! The ceremony and reception took place at the Cleveland Museum of Natural History in the dinosaur room.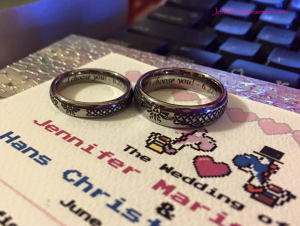 These are our wedding bands. They have triforce and Celtic knot design on the outside and "I choose you!" engraved on the inside. We aren't dorks at all… Our wedding programs and invitations had a pink Yoshi with a wedding veil and a blue Yoshi with a top hat on them. We got them on Etsy (which is also where I got my wedding dress and veil).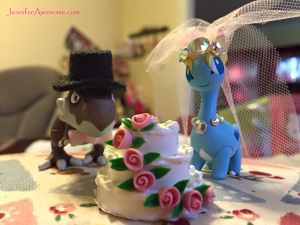 To match the dinosaur theme, I made Pokemon dinosaur cake toppers to sit on the giant cupcake at the top of our cupcake tower. I got a miniature Tyrunt and Amaura from Amazon. I made a top hat and bow tie to make Tyrunt look dapper. I made a veil for Amaura from a sample of the same pink material that my veil was made of and added some adhesive jewels. The mini wedding cake was a last minute addition that we found at the craft store.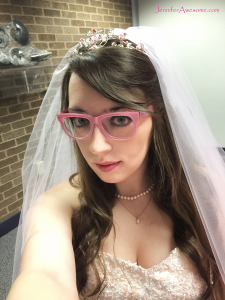 Here's me getting ready. I got pink glasses specifically to match my pink wedding dress and veil, though I ended up liking them better than my other ones, so I've switched to wearing them on a daily basis.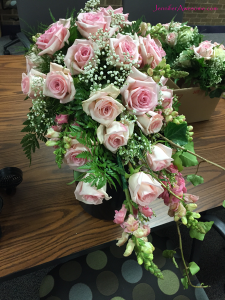 I had a beautiful bouquet of cascading pink roses! (Sorry my favorite flower is one of the most expensive ones, Hans! But at least I prefer pretty pink stones to plain old diamonds!) Made by Puffer's Floral.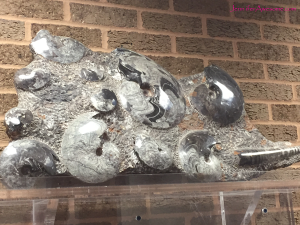 The room where my bridesmaids and I got ready had fossils on the wall!
The following photos were taken by our photographer, Brian Valentine.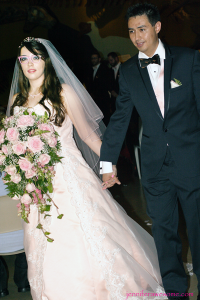 Hans and I walking down the aisle after the ceremony.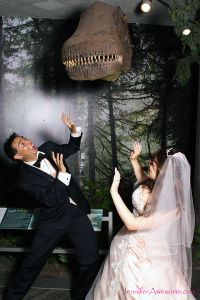 Dinosaur attack!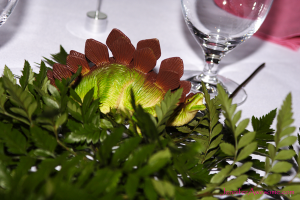 We had dinosaurs and ferns on each table. Our sweetheart table was the Stegosaurus Table, of course!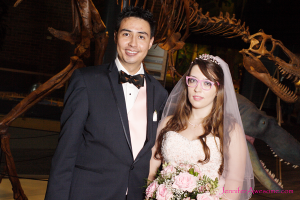 Us in front of a T. rex. How romantic!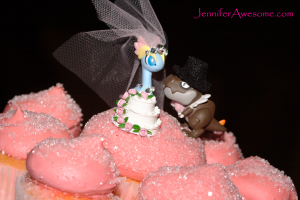 Amaura and Tyrunt on our cupcake tower. Cupcakes are way more fun than regular cake!
We left for our honeymoon in Hawaii the following day. I'll post some photos in a future post!
Share!
Follow!