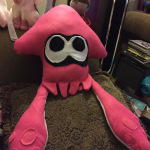 I took a break from playing Splatoon and wedding planning yesterday to make my own squid plush. (I told you in my last post that I love this game!)
I used picture of the squid from Splatoon that I found on image search to make the pattern by enlarging it in Photoshop and printing it out in multiple parts to tape together. I based the eyes on the eyes from the logo squid, though. I thought those eyes looked cuter than the original eyes.
Here's a link to the original squid picture I used. It was made by an artist on DeviantArt, so I feel like I should give them credit. I made the pattern for the eyes using an image of an official Squid plushie I saw on image search.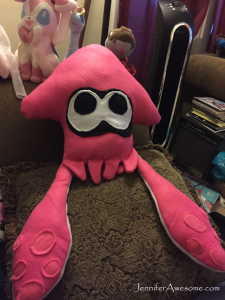 I'm also getting a pink Splatoon hat from an Etsy shop to start a Splatoon Inkling cosplay (I don't know why I bought one instead of just making it since I made a very similar plush anyway, but the hat just looked so cute in the listing!). I think I'll take it to Midoricon. I'm not sure if I'll do a regular Inkling outfit, or a Squid Girl crossover. Maybe both on different days?
Share!
Follow!