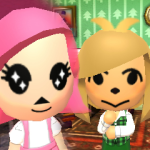 Here are the QR codes for my Tomodachi Life Mii recreations of Isabelle and Villager from Animal Crossing.
I based my Villager on the pink haired version of Villager that appears in Super Smash Bros for 3DS/Wii U (which is the only female version that doesn't look awful. There is also only one decent male version. Why did they make so many horrible-looking Villagers in Animal Crossing?).
And of course I had to make everyone's favorite doggy, Isabelle. Look how adorable!
I'm sorry if I didn't make my Villager psychotic enough!
Who else do you want to see in Tomodachi Life?
Share!
Follow!