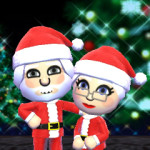 Merry Christmas! I made Santa Claus and Mrs. Claus Mii characters for Tomodachi Life. They both live in festive holiday interiors with Christmas trees year-round (unless you decide to change their interiors).
I made the original QR codes with them both wearing matching "ugly holiday sweaters" before I found the Santa Suit outfit in the "seasonal" section of the clothing store (yay for scheduled posting!), so I remade the codes with the Santa Suit outfits, but I'll keep the ugly holiday sweater codes here too, just in case anyone prefers that outfit.
Have them both move in and see if you can get them to start dating, get married, and make cute little gray-haired baby Miis!
Check back tomorrow if you would like Krampus to move into your apartment building. He's great for making sure your child Miis stay in line!
Share!
Follow!