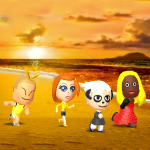 To celebrate the recent release of Pokemon Omega Ruby and Alpha Sapphire, I'd like to share some of my Pokemon-inspired characters for Tomodachi life. Here are QR codes for Misty, and three Pokemon; Jynx, Makuhita, and Pancham.
They are all set as adults and all female. The male:female ratio in my game skews toward male, so I wanted to try to balance it out more. I needed more females so more of my miis have a chance to get married, and more really strange looking characters to have a better chance of getting strange looking baby miis to send out on Streetpass, which is why I decided to make Pokemon to begin with.
Makuhita may or may not have the "real name" Taylor Swift. I also may or may not sent out Hariyamas and Makuhitas on wonder trade named Taylor Swift on occassion.
I don't know why I name those Pokemon Taylor Swift. I have nothing against her. It just seemed like a funny idea one time when I was playing Pokemon X late at night.
Anyway, enjoy these Pokemon Miis for Tomodachi Life.
Share!
Follow!