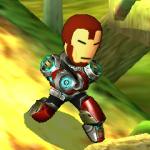 I originally made this Iron Man Mii to use as a Smash Bros Mii Fighter, but I decided to import him into Tomodachi Life as well. The QR code should work in both Tomodachi Life and Mii Maker, so you can use him in Super Smash Bros and any other game that lets you import miis.
I made him look distinguished in my game. I thought this type of outfit and interior suited him well. I used the dark red hair dye to make his helmet armor a little bit brighter than the default red hair that is available in Mii Maker.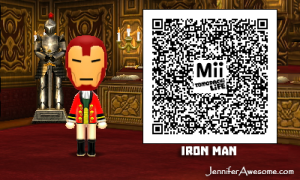 I think he looks really cool in Smash Bros. Set him as a gunner and use the High-Tech Armor to make him look like this: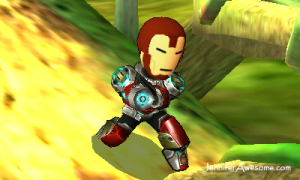 Unfortunately, you can't make his "hair" any brighter outside of Tomodachi Life, but I still like how he turned out with the dark red helmet.
Any of the characters that I share for Tomodachi Life should work in Mii Maker as well, but some of them don't look as cool without the extra items (clothes, hats, hair dye) that can be added in the game.
Share!
Follow!