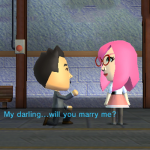 Hey everyone who hasn't already heard! Hans and I got engaged on Christmas day! This is the kind of thing that's important to announce on your personal blog, right?
He proposed by putting the ring in a big Pokéball that he took off the Christmas tree and gave it to me as my last Christmas gift!
My ring has a heart-shaped pink sapphire in the center (I may or may not have shown him this ring a couple months ago…). It's so beautiful! I love it so much!