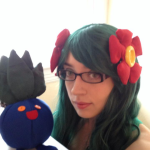 I haven't had time to make a new cosplay in quite a while, but I just finished a Bellossom cosplay for Midoricon. They are doing Live Action Pokemon Snap this year, and I wanted to be a part of it. Bellossom was always one of my favorite Pokemon from Pokemon Gold and Silver. As lame as it might sound, Bellossom was one of the new Pokemon I was most excited about for that generation. I remember seeing a picture of it in a magazine before the games came out, and thinking it was super cute. I even made my own plush doll of Bellossom (it didn't turn out too great – I was a kid! I'll see if I can find it at my parents' house sometime). Plus the hula-dancer inspired Bellossom seemed like the perfect Pokemon to cosplay as at a beach convention!
I the flowers are stuffed with Poly-Fil stuffing to make them poofier. I used a stiff red fabric I found in the remnants bin. I couldn't think of a good way to make the yellow center part, until I was looking around JoAnn's and saw the big yellow buttons. I thought they were just perfect! For the skirt, I made eight big leaf shapes – four green and four yellow, and sewed them together. There's a little bit of elastic inside to keep it more secured. I just bought a green tank top because I'm lazy.
I also made an Oddish plushie to go with my costume. I actually made him before I started my cosplay to test out my new sewing machine. He's made from left over fabric from two other costumes. I used a pattern for a round ball I found on image search, and just used the exact same pattern to make the leaves (as I said early, I'm lazy). I'm going to carry him around with me at Midoricon.
I just have one more thing to finish making for my costume: a leaf shaped bag to keep my phone, wallet, and 3DS in. I ordered a pair of green a yellow shorts to wear under my skirt specifically because they had pockets. It turns out, however, that like most clothing designed for women, the pockets are too small for even an iPhone. I think I'm about to start making all of my own clothes so that I can at least have decent pockets!
Anyway, if you see me walking around at Midoricon, please say "hi!" I'll be there with my boyfriend, who's going as Lucario. I hope to meet lots of other Pokemon there!
Share!
Follow!