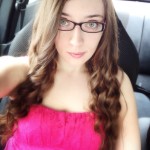 I didn't realize it's been so long since I've updated my blog. Where does the time go. Anyway, spring semester ended a few weeks ago. I haven't had time to work on my own projects much lately, but I'm planning on teaching myself some things in Unity this summer before fall semester starts.
I'm also moving to Lakewood in a couple weeks, so a lot of my free time will be devoted to packing for the move. Well, that and Mario Kart 8. There's always time for Mario Kart.
Anyway, we chose Lakewood because it's between my workplace and school and my boyfriend's new workplace, and because it seems like a much nicer (and safer!) area than Elyria, even if it means we're going to get fat from Angelo's Pizza and Melt!
That's all I have right now.
Share!
Follow!