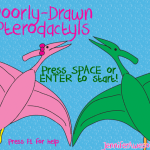 Poorly Drawn Pterodactyls is a shooter in which one or two (poorly drawn) pterodactyls must take down enemy aliens to save the world from total annihilation. It can be played individually or co-op.
I created all of the images (except the background) with Adobe Illustrator. The background is from BackgroundLabs.com and the music is from Jewelbeat.com. Poorly Drawn Pterodactyls is based on the Wingman Sam tutorial from The Game Maker's Apprentice
.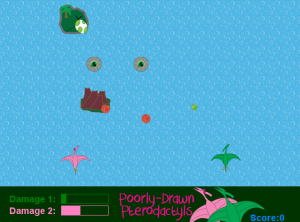 Poorly Drawn Pterodactyls can be downloaded for free from YoYoGames:
Poorly Drawn Pterodactyls
Added: 16 December 2013
By: Nybiru
(Hopefully crazy pseudo-feminist "gamer girls" won't be too offended by my pink pterodactyl with a bow. I find bows to be adorable.)
Share!
Follow!