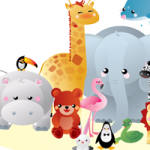 If you're just starting out as an indie developer, you probably don't have a lot of money to spend on your projects. It can be time consuming to create images and music for your games, so you may want to use artwork or music that is already made (either in the final product or as a place holder until you can create your own). Maybe you simply need some inspiration before you dive in to creating your own artwork. Whatever the case, here are a few websites offering free content that you can use in your indie games:
Free Background Images:
BackgroundLabs.com – I have used backgrounds from BackgroundLabs in a couple of my games so far (I will be uploading Crushing Candies, which uses an ice cream background from this site soon).
Free Vector Images:
VectorJungle.com – This site offers a variety of cute vector images that you can use in your own projects for free.
Vector4Free.com – There are a lot of popup ads, and "sponsored ads," but there is some good artwork available if you are willing to dig for it. Make sure to check the license for each individual file, however, if you plan on releasing your game commercially. Some are for personal use only.
Free Background Music:
JewelBeat.com – You may have to sift through a lot of files before you find music that is suitable for your project, but I have used music from this site for a few of my game projects already.
As always, make sure your read the licensing agreements on any website from which you intend to use content. Every site has their own rules about use and attribution, and they may change their terms of use at any time.
Share!
Follow!