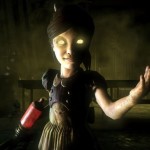 I've just finished my first week of classes. It's still early, but I'm already enjoying school a lot more than I did when I was working on my first degree. The Intro to Game Design class is pretty awesome.
I've already made one (extremely simple) game. I just want to make some new art assets and sound effects before submitting the project. I will be posting my finished game projects on this blog under the "Freebies" category until I get my game studio website up and running.
Aside from making games, we are also required to play games in the class. One assignment this week was to choose a AAA title to play from a list of games chosen by my professor. I'm going to get college credit for playing Bioshock! My college is also pretty cool in that students who don't have their own Xbox 360 or PS3 are able to check out a console from the school library.
Well that's about it for now. I have to get back to working on my game and finishing up a cosplay costume. Expect to see some photos of my Dragon's Crown cosplay once it is finished (assuming I get it done in time for Midoricon, which starts Friday!).
Share!
Follow!