I just made a new custom design for Animal Crossing: New Leaf exclusively for readers of my blog and visitors to my AC:NL town, Dinotown. In honor of Pokemon X and Y, which will be release for 3DS next month, I would like to share this adorable Jigglypuff design.
Feel free to use this QR code in the Able Sisters' shop to get my Jigglypuff sprite design.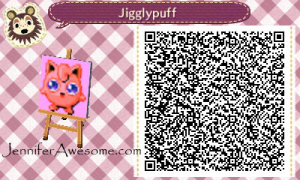 What kinds of designs would you like to see in the future? More sprites? Fun pro design cosplay costumes? Also, what is your favorite Pokemon? Let me know in the comments!
Share!
Follow!