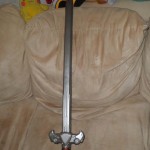 I was originally going to make a Dawnbreaker sword (actually, two of them, so I could dual wield like I had my character do after exploiting a glitch in the Break of Dawn quest), but I'm running out of time to finish my costume and couldn't find anything to use as the light for the top of the hilt. Instead, I just made a generic sword painted in a similar fashion to the Imperial sword.
I simply used acrylic paint on a Nerf sword to make it a similar color to the Imperial sword in Skyrim. (Anything is better than the original blue color). I may eventually make a couple Dawnbreakers for a future cosplay. Eventually, I may attempt to remove the horrible "Nerf" logo from this sword and mod the hilt to more closely resemble the Imperial sword using foam or air-dry clay.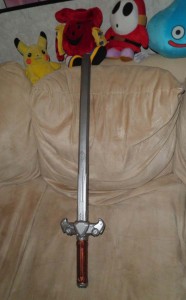 Also, fun fact: I keep accidentally typing "nerd" instead of "Nerf."
Share!
Follow!