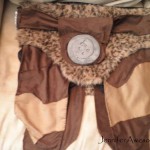 Here's the skirt I made for my Skyrim hide armor costume.
The skirt for the hide armor is made from several layers of fabric. I started by making the black under layer from a stretchy black fabric. It's double layered with the same black fabric. I then made the fur layer and sewed it to the black under skirt around the top. The patchwork "hide" flaps are attached to the bottom of the fur layer. I put a zipper closure on the side of the skirt and made the belt completely separate from the skirt.
The belt is held on with Velcro under the skull medallion on the front, but I ended up using safety pins to better hold it together. The medallions are made from Foamies that I painted silver. Eventually, I'm planning on switching those medallions out with something better, possible real metal, if I can think of a better way to make them.
I didn't have time to make the actual hide bracers, so I ended up just making generic bracers from the same fabric I used for the top of my hide armor.
Share!
Follow!