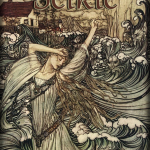 I have published my second eBook, The Selkie. The Selkie is a short story based on Celtic myth.
In this retelling of Celtic legends, a young fisherman named Conall loses his beloved wife Mairenn to the fury of the sea. In his grief, he loses his will to live until he is rescued by a mysterious woman named Moira who appears to have come from the sea itself. Ready to move forward after enduring heartbreaking tragedy, Conall builds a life with Moira. They appear to have a perfect life together, but like Conall himself, Moira seems burdened by constant longing for something she lost long ago.
You can download the full story or read a sample of it here. It's short, but there are pictures in every chapter! I have already sold 1 copy, and I haven't even started marketing it yet! My eBooks make great additions to your Kindle or iPad library!
Share!
Follow!