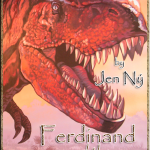 I have just published my first eBook, Ferdinand and the Dinosaurs.
Ferdinand and the Dinosaurs is the tale of a teenage outcast who's wildest dreams come true when he is transported to the time of the dinosaurs. He befriends a Triceratops and the two journey through a prehistoric land together meeting many different types of dinosaurs and facing untold peril. Eventually, Ferdinand is faced with a difficult choice; to go home to his own time, back with his mother and everything he has ever known, or to stay in the Cretaceous period and continue his prehistoric adventures with Snarl, his dinosaur friend.
It is available to download for the low, low price of 99 cents! 11363 words for only $.99! Wow! Did I mention it has dinosaurs? You can read a sample and download it here.
Share!
Follow!