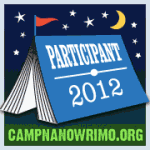 I haven't done NaNoWriMo (National Novel Writing Month for the uninitiated) in several years, but I've been thinking about trying to edit and publish my 2005, 2006, and 2008 NaNoWriMo novels, as well as getting back into writing on a regular basis. As though the universe heard my thoughts, I got an email yesterday about Camp NaNoWriMo.
NaNoWriMo is a month-long writing challenge in which participants attempt to write the first draft of a 50,000 word novel in one month. The event is held every year in November. Camp NaNoWriMo is the same thing, but in June and August this year.
I "won" in 2005, 2006, and 2008. I attempted it in 2007 and 2009, but didn't actually finished. After 2009, I just kinda forgot about it. The three years I won, I wrote sci fi, whereas the 2 years I didn't, I attempted fantasy. Needless to say, though I don't have any ideas for a plot yet, I'm probably going to go with science fiction. I'm going to be super crazy and try the June and August Camp NaNoWriMo challenge. That's two full novels by the end of summer!
Who else wants to join me for Camp NaNoWriMo? Post in the comments.
Even if you are too intimidated by the idea of writing a novel in only a month, give it a try anyway!
Also, if you have an idea for a plot you'd like me to write, post it here! I may mention you in the acknowledgments if I end up using it!
Share!
Follow!