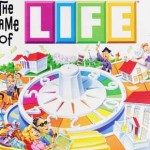 Great news: Hans and I are moving to our new apartment this Sunday! Okay, if you are someone we actually care about you already know by now, and are probably getting sick of hearing about it. If you are just some random internet stalker, you now know a new cool story.
After looking at a few places, we found a great one bedroom apartment that we both really liked in an undisclosed location. We viewed the apartment for the second time and got the application Monday, applied Tuesday, were approved Wednesday, and signed the lease Thursday. It has been a busy week. We are now enjoying 2 days of rest (AKA packing) before moving in on Sunday.
Our apartment is in a nice, quiet community of mostly 40-50 year olds, so it won't be infested with small children or drunk college kids. We won't be bothered by annoying people our age, unless we decided to invite our friends over! We also hit the neighbor jackpot, as the landlady said that all of our nextdoor neighbors are rarely there during times we'll be home. The walls are also thick enough that we probably won't hear them (and vice versa) anyway. Yay not having paper thin walls in our bedroom!
We have all of our furniture covered too! Through the wonders of FaceBook and actually having real-life friends, we're getting an awesome couch and chair set and a lamp from a good friend. We also got a not-so-awesome, but functional, computer desk from a friend of a friend. Between the two of us, we already had everything else we need.
I can't wait to finally have our own place! We're going to have so much fun building couch forts and playing awesome board games like Hungry Hungry Hippos, Candyland, and Pokemon Monopoly all night. (That's what couples who live together do, right? Build forts and play children's board games? This is the first time either of us has lived with someone, so we're new to this!). Since Hans just turned 8 on February 29th, I figured he'd like to have some fun games to play. I need to keep him entertained while I'm kitchening. (Who am I kidding? After a week or two, he probably won't let me kitchen any more).
Maybe I'll post pictures of our new place in a future post. Or maybe they'll just go on FaceBook if I even bother to take photos. We probably won't get internets until the middle of next week sometime, so I probably won't post right away unless I go to the college to borrow some internets.
Yay! 🙂
Share!
Follow!