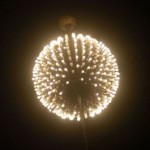 Looking back at 2011, I can't believe how much I've done and how much my life has changed in one short year. In 2011 I finished my Associate Degree, competed in two tai chi tournaments (3rd and 1st!), finally got the courage to end a horrible abusive relationship, and met a man who actually makes me happy. I'd say it has been a good year! Hopefully 2012 will be even better! And now you get to experience my life with me as you follow my brand new blog! (You are going to read it, aren't you?)
With the new year, I thought that it would be a good time to completely rework JenniferAwesome.com. Rather than wasting my web hosting on a static portfolio site that no one cares about, I'm starting a new blog (that no one cares about – but at least a frequently updated blog will rank higher in Google). Out with the old, in with the new.
I was going to turn this site into a general social media marketing blog, but I decided it would be more fun to write a more personal blog. You know, interesting things that happen to me, weird things I think of, etc. Like everyone else who has ever decided their boring lives were interesting enough to blog about. Don't worry, I'll try to only blog things that might actually be interesting to a few people, rather than blogging about what I had for breakfast. Mostly because I usually don't eat breakfast (cool story, bro).
Anyway, check back later this week for more awesome posts! It's sure to be full of cool stories for all of you bros!
Share!
Follow!