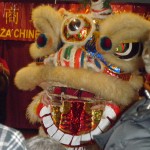 On Saturday, Hans and I celebrated Chinese New Year (or as Hans calls it, "New Year") in Cleveland's AsiaTown to ring in the Year of the Water Dragon. Being extremely white, this was my first time seeing a lion dance.
After driving around the parking lot a few times until someone left, we first saw the Kwan Family Lion Dance as Asia Plaza. Here are some photos: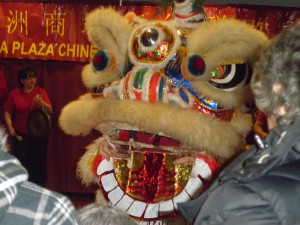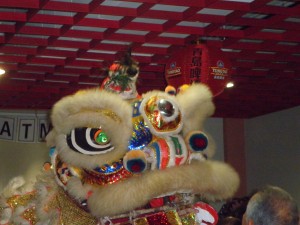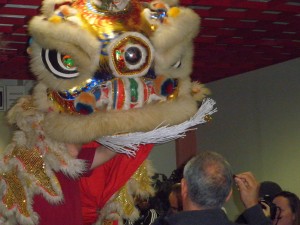 The lion kept moving around (imagine that!), so I couldn't get very many good photos.
I also wanted to see the Hip Hop Lion Dance at Asia Town Center, because who wouldn't want to see that? Not wanting to lose our parking space, we chose to walk several blocks in the snow to a place that neither of us had ever been to and weren't sure exactly where it was in the middle of Cleveland. Luckily, since the festivities took place in the middle of the day and it was too cold for normal people to be outside, we didn't get raped or murdered and managed to find the place in time for the second lion dance of the day. Though still photos don't do it justice, here are some photos from the Hip Hop Lion Dance: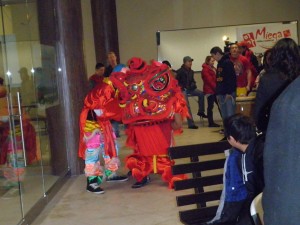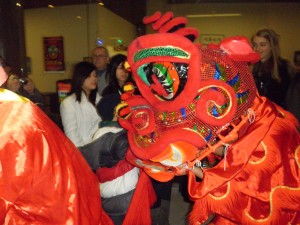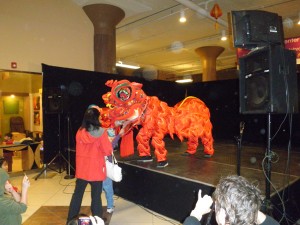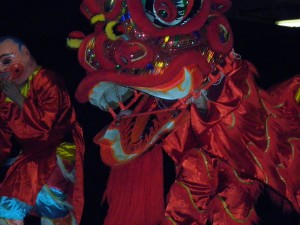 After using the 10% off coupon for Asia Food Co at Asia Town Center that was included in the Chinese New Year brochure (I like Park to Shop at Asia Plaza better, but I also really like coupons), we went up stairs to see what other awesome Asian cultural experiences awaited us. What we found wasn't exactly what you would expect to find in AsiaTown.
On the second floor of Asia Town Center, you will find several art galleries containing some very… interesting… pieces of um… art. Like the kind of thing you'd expect to find in Oberlin rather than in AsiaTown. Most of the art that I found interesting enough to photograph is probably too inappropriate to post here (though I guess as long as you claim something is "art," you can get away with just about anything), but here is a sample of the art we saw: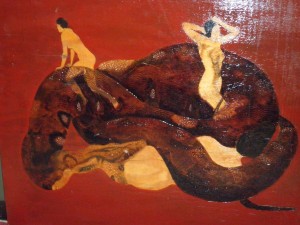 The above is a wood-burned piece by artist Gadi Zamir, who's work can be seen in the Negative Space gallery on the second floor of Asia Town Center. The artist was even there to explain to us the complex meanings behind his… unique… artwork. I'm not sure what this one means…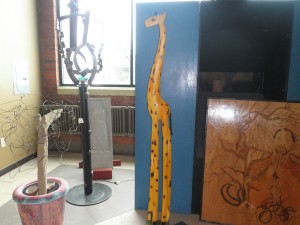 This art is a sculpture of a giraffe that was in the least strange of the art galleries. Who doesn't like giraffes? It serves as a reminder of the African homeland. Wait…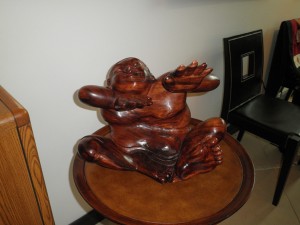 Here we see a hip hop Buddha from the Ubud East gallery. This piece of art represents the fusion of African American and Asian culture that seems to be so prevalent in our society these days. Or at least in Cleveland. Who knew? (I may have interpreted the meaning of this art incorrectly. Please feel free to correct me in the comments!)
After looking at weird art, we stopped at a Korean restaurant and then headed back to Asia Plaza to see some more demonstrations and to do some shopping. I needed to get some more Koala March cookies at the Asian supermarket, since they don't sell them at white people stores anymore. I also wanted to get a tai chi sword, and figured I might as well see if I could find one I liked while we were there.
At the first gift shop I checked, they wouldn't let me try out any of the swords, so I went to the next store. That's a good way to lose a customer, since the whole point of going to a local shop instead of the interwebs is so I can make an informed purchasing decision know what I'm buying. I ended up buying one from Flower City Gift Shop. The guy working there was really nice and helped me to pick out a sword that suited my needs. He even gave me a 10% discount. Giving me a 10% discount is a sure way to get repeat business.
We missed most of the martial arts demonstrations while I was sword shopping, but we got back to the demonstration/performance area just in time to see some Asian hip hop dancing. There seems to be a trend. As I told Hans once, Asians and white people are basically the same. We both really just want to be black.
Anyway, here's a link about the Year of the Water Dragon, for those of you who actually believe in astrology. Hey, it's still probably more credible than western astrology…
Share!
Follow!